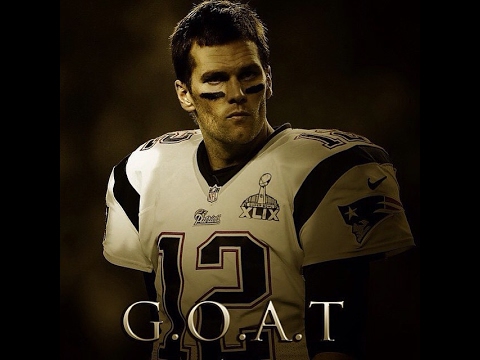 Tom Brady is the only one that can rock a turtleneck, win six Super Bowls, and beclown Roger Goodell with ease. And he shall have no equals.

Sunday, Thomas Edward Patrick Brady, Jr. played in his ninth Super Bowl, winning his sixth. Although the Patriots were slightly favored—Vegas placed the odds at a slim -3—never doubt a man who can both pull off a turtleneck and beclown Roger Goodell with ease. In the Year of Our Lord 2019, there is one indisputable truth, and that is that Tom Brady is the greatest of all time, the GOAT. Any arguments to the contrary are ridiculous, as last night showed.
Sure, Brady hasn't always won. In 2007 and 2011, the Pats lost to the New York Giants and quarterback Eli Manning, a man who may well be Brady's Kryptonite. Superman cannot be Superman without Kryptonite.
But Jared Goff, the Los Angeles Rams quarterback, was no Kryptonite. The Rams defense almost filled that role, but ultimately fell short. At the end of a defensive battle—an unexpected one, as Vegas had the over/under at 56—the Patriots won 13-3. In my pre-game draft, I wrote, "Brady the GOAT threw for [x yards and touchdowns] while rushing for [x]."
Post-game, I have to admit that Brady the GOAT threw for only 253 yards, didn't run, threw zero touchdowns, but did toss up an interception. Yet, when the clock ran out, it was Brady who was getting his sixth ring. The one touchdown drive sealed it. The drive did feature Brady on a long throw to Rob Gronkowski, but backs Sony Michel and Rex Burkhead did the yeoman's work, with Michel reaching the end zone.
Standing on the Shoulders of Greatness
Sometimes victory doesn't rest upon the hero's shoulders, but upon those around them. Sometimes, the successful general knows when it's time to get out of the way and let his troops lead the storm. This is especially true when the troops know they can stand upon their general's shoulders. Super Bowl LIII was an example of this, although we shouldn't have been surprised.
In fact, the victory was foretold in the good book. As Daniel wrote, "The goat charged furiously at the ram and struck him, breaking off both his horns. Now the ram was helpless, and the goat knocked him down and trampled him. No one could rescue the ram from the goat's power." Daniel may have been speaking of a different sort of goat than the greatest of all time variety, and of a different sort of charging and trampling, but his message was as true Sunday as when it was written.
Much as it was common for people to dispute the truth when Daniel was writing, some still dispute the quality of Patriots Coach Bill Belichick and quarterback Brady. Sometimes, it's mentioning the imaginary asterisk next to Brady's name and the Patriots' record. Other times, people get straight ridiculous.
For example, that student in Kentucky who had a science fair project "proving" that Brady's a cheater. The kid did get an honorable mention, and he's a kid who actually did some research, so I applaud his creativity. However, his methodology seems less than scientific. (If you're disenchanted about the state of the NFL, I have some news about the state of science fairs.) It seems especially not-dispositive when we consider Brady's rebuttal of the accusations, the tape of which proves he's also the GOAT of NFL press conferences.
Speaking of tape, it is also true that the Patriots were busted for Spygate, but the actual charges were more yawn-worthy than the headlines suggested. They definitely don't change the fact that Brady has ice water in his veins, knows how to handle his balls, and can throw strikes all day long and at least twice on Sundays.
Don't Forget Joe Montana
Beyond the asterisks and the lowest-scoring affair ever that was Super Bowl LIII, there is a better argument against Brady being the best. That better argument is known as former San Francisco 49ers quarterback Joe Montana. He also had ice water in his veins, knew how to handle his balls, and could throw touchdowns every day and at least twice on Sundays.
He may have won fewer Super Bowls, but unlike Brady, he won 100 percent of the Super Bowls he played in. Also, he played when the game was rougher and there were fewer protections for quarterbacks and receivers. (There were also no salary caps, which helps when an owner wants Montana and receiver Jerry Rice on the same team.)
Nevertheless, Montana was a quintessential quarterback. He inspired a generation, including Brady. He was the GOAT. But when you look at the stats, the student has become the master.
That's overall stats, though. Just going off postseason numbers, the ones when performance and victory matter most, Montana has the edge, especially when you look at Brady's sixth Super Bowl win. Also, we're talking about Joe Montana. Just saying his name elicits reverence from those who know the game. Montana passing to Rice was poetry in motion. The man is deserving of praise, of Nicolas Cage-worthy high praise, even.
He's Won Six—Six!—Super Bowls
But six Super Bowl victories, with Brady winning his most recent when he was 41, is an insurmountable edge. Montana won his final Super Bowl in 1990 when he was 34 years old. He did throw for five touchdowns in that game, and achieve that 100 percent Super Bowl success rate with those touchdowns, but he didn't make it to six and retired when he was 38.
Not that it was all downhill after Super Bowl XXIV, but Montana never again reached the summit, after being traded to the Kansas City Chiefs for his final two seasons. Those seasons weren't slouch seasons, emblematic of a man refusing to go gentle into that good night, but he could have retired in 1995 and his record would be much the same as it is today, absent a few more passing yards and touchdowns.
He did not, not that it much matters. Either way, despite Montana's greatness, despite being one of the most quintessential quarterbacks ever, he was no Brady. Only Brady is Brady, and he is the greatest ever. (At least one 49ers fan can agree with this declaration.)
Taking Delight in the Work that Suits You Best
Last night, Brady again took the crown and reclaimed his kingdom. In his post-game interview with CBS, he said of the game, "We kept fighting and finally got a touchdown … the defense played their best game of the year." He continued, "It's been a great year. I'm so happy for my teammates. This is a dream come true for all of us."
This was after Brady dispelled rumors that he may retire and stuck by his claims that he plans to play until he's 45. With that quote and proclamation, Brady channeled another warrior, albeit not one of the gridiron variety. No, the warrior he channeled was another who relied on his troops and sought above all to be a good leader, one who shouldered the agonies of defeat while sharing the spoils of victory.
When writing about that man, Homer did not label him the GOAT, although he very easily could have. Instead, he simply said, "Each man delights in the work that suits him best."
With his latest Super Bowl victory, Tom Brady took delight in the work that suits him best and fully claimed the mantle of the greatest. Someday, there may be another. Penelope will never be without her share of suitors, after all. For today, though, Brady has proven unequivocally that he is the king, and that "there is no greater fame for a man than that which he wins with his footwork or the skill of his hands."
May that footwork and those hands continue to trample the naysayers—and Roger Goodell—for years to come, for the work of the GOAT is never done.